QEII Centre – Where to eat, drink & sleep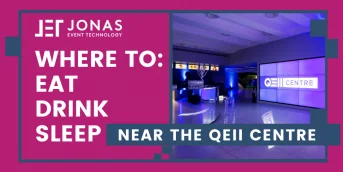 Visiting QEII Centre, London – Restaurants, Bars, Hotels and More
The QEII Centre or Queen Elizabeth II Centre for it's full name) is a conference centre in the pounding heart of London. If you had the power to directly place your upcoming conference anywhere in London, you would be tempted to choose this location. Westminster Abbey, Big Ben, and Houses of Parliament are all within your eyeshot, with other huge London landmarks only a hairsbreadth away. Getting to the venue is as easy as it has two tube stops just a few minutes' walk away, as well as many bus stops, train stations, and airports if you are coming from overseas. The QEII centre opened up in 1986 by her majesty herself, and throughout the past 34 years, its 32 event spaces with an award winning AV team have hosted a multitude of dinners, receptions, product launches, award shows, and conferences. (Are you organising a conference?)
Attending the venue underprepared could prove to be a costly one, as the location is just primed for you to overspend on overvalued and overrated restaurants and hotels. Therefore, I have collated a list of restaurants, cafes, bars and hotels for you that give you the best value for your money whilst enjoying your stay. Whether you are coming for a daily visit, or staying the night, you'll want to take a look at our self-proclaimed expert tips!
Restaurants and Cafes
Pre-Conference Coffee (£)
Can't go ahead with your day until you grab your fix of coffee? Don't worry, there are abundance of options within a short walking distance of the centre. First of all, for its architectural beauty, and convenient location, Wesley's Café may be right up your Abbey, as it is situated next to the venue, underground in Westminster's Central Hall. It opens at 8am, and does serve food if necessary too – all for a reasonable price. The café is usually bombarded with tourists, but if you catch it when it opens, you'll feel far more relaxed. Elsewhere, the highly rated Café XLNT is just a 10-minute walk from QEII. It beats all competitors on value, service and quality, and is open from 6am if you're in the area earlier. If you have time, and don't want to be dissatisfied, head there for coffee and a sumptuous breakfast.
If you like what you know, and know what you like, there are two Café Nero's within a short walk in opposite directions, as well as a Pret a Manger. However, I'd personally opt for Bagelicious, as you can head there for the coffee, but stay for the appetizing bagels – you can't have everything British.
Top-Rated Dinner on Your Doorstep (£ – £££)
Keeping in the theme of fantastic foreign food, I will now provide you the top-rated dinner options around Westminster. As you are in the beating heart of London, it makes perfect sense to try out some of the most exquisite food from China, India and France!
Firstly, from the outside, it's a relatively small restaurant, underneath a block of flats which doesn't exactly represent Westminster, but inside the Ma La Sichuan, you'll be taken away by some of the finest cooked Chinese food in the entirety of London. The menu is extensive with a broad-range of infused Asian dishes as the owners put taste and its authentic spice as their priority. Just around the corner is The Cinnamon Club, that brings you innovative Indian food. The delicious variety of flavours are incredible, but another draw to this restaurant is its setting – in an old Victorian Library. Make sure you book a table in the Old Library Room for the preeminent experience. Now for the top rated restaurant in the area, make your way to Chez Antoinette. First-class French cuisine is offered in superb atmosphere with an outstanding décor. It's open all day to serve you the best pastries in the morning to coq au vin in the night. Magnifique!
Ultimate Dining (£££ – ££££)
If you feel that you are not spending enough money, and want small portions on big plates, then Westminster does also have some fine dining options, too. Joking aside, the opportunity to eat at Roux at Parliament Square shouldn't be missed. Dinner menus are in the £60pp range, but that is the type of price you pay for spending an evening at a restaurant rated in the top 1% in the whole of London. Turbot fish, sika venison and suckling pigs headlines their main menu, with exceptional flavour and texture present in every bite. Elsewhere, there is the slightly cheaper Quirinale, which is an Italian restaurant with excellent ambience, and unassailable service. Veal cutlet Milanese with cherry tomatoes & basil and herb crusted fillet of halibut with pumpkin & shallots are the pick of the bunch, but you'll be gratified with any decision you make.
Bars
The nightlife scene in Westminster isn't always thriving like Camden Town and Shoreditch, but within a short distance walk, you'll be able to find some real gems for a post-conference bevvie. I am going to break the first rule by telling you this…but my personal favourite is Fight Club Victoria. The décor of this place is stunning including indoor phone boxes, potting sheds, bandstand booths, and 'The Turn and Slip In' – another room that looks more like a museum piece as opposed to a standard pub table. The main event is 'The Plate Smasher', which is the incredibly themed darts board area, which you should book in advance.
London has great Gin bars all across the city, and The Other Gin Palace is certainly the closest to the venue, located in The Other Palace theatre and studio. The bar specialises in G&T's, but the extensive menu can provide you with so much more if you need. Finally, this recommendation is the furthest from the venue (out of all my selections), but if the weather is warm, and the day is long, then it'll be worth it to head to the venues name sake Queen Elizabeth Roof Hall Garden Bar and Café, located in Waterloo. You'll be able to savour the specular views of the River Thames and London's skyline.
Going for a drink in a unique place with character and sophistication is great for some, but not for all. Thankfully in Westminster, there are loads of typically local pubs and taverns such as The Red Lion, St Stephens Tavern, Buckingham Arms, Two Chairmen, and The Windsor Castle. All of the pubs are within a few minutes' walk of the venue, and can boast a good reputation for comfort, great selection of craft ales and a friendly atmosphere. Just hope you don't bump into any politicians.
Hotels
'Budget' Stayers (££ – £££)
You'll have as much chance of finding Santa Claus, the Loch Ness Monster or Bigfoot than finding affordable or reasonable accommodation in the city centre of London. However, if you are looking to save pennies and quite literally will settle for a bed to sleep, then I have you covered with some budget options. On the doorstep of the venue, there are two Hub's by Premier Inn (Westminster Abbey and St James Park), which provides you a small, basic and modern room in a rather plush hotel. It's excellent value for money, and does the job if you are staying a night or two. If you prefer a tad more space, then you can journey over to Waterloo which is not far from the conference centre, and stick to Premier Inn and Travelodge for standard hotels with competitive prices.
Upgraded Options (£££ – ££££)
Want to get more from your stay? Then don't walk it to the conference following a night at Travelodge eating a Tesco meal deal, and instead consider one of the following four superior options. The Sanctuary House Hotel is the closest hotel to the venue, that provides exquisitely old-fashioned rooms with a sensational tasting breakfast, and a pub on the bottom floor.
On the other side of Westminster Bridge, you can opt for the Park Plaza, which would be the ideal setting for a professional stay. In terms of its room quality, service and the facilities, they really are phenomenal, and if you're lucky, you can get an elevated room with a picturesque view of the London Eye and the rest of Westminster. Another 5-star hotel is Conrad, which is just down the road from QEII. It's a top 50 hotel in the whole of London, due to its elegant and luxurious rooms with Afternoon Tea available throughout the day. Other rather costly, yet stupendous hotels, are St. Ermin's Hotel, Autograph Collection and Corinthia. I hope you have a spare £500 for a night's stay!
Aside from sleeping, drinking and eating, do use your trip to QEII to explore the best of London, with all the key tourist attractions, galleries, museums, parks, and so much more in the palm of your hand. Have a blast.
If you're organising an event at the QEII Centre, we are an event registration company that provide event organisers with event registration solutions and award-winning service. Contact us to see how we can help you put on your best event yet!