Event Information
Natural and Organic Products Europe 2018
Venue: ExCeL, London
Event Type: Trade
The Solution
JET Forms
We built three bespoke JET Forms to meet the requirements of the organiser. All the forms required PDF print-at-home e-tickets, with the visitor form system capable of producing different PDF designs/colours depending on which business type the visitor was from. There was also conditional logic used throughout so that each visitor was shown questions depending on the interests selected in previous questions. With the event being free up until the day before the show, the form initially allowed users to register for free. However, from 5pm the day before the show and for the duration, visitors would need to pay to enter. A simple switch on the form meant visitors could pay the entry fee using the same form as previously used, without any complex changes having to be made. The VIP forms used a priority code to check the validity of the registrant. If the priority code was not accepted, then they were required to register as a visitor. The press form included our approve/deny functionality. Press registrations were sent through to the organiser who could choose who to approve. Those who didn't meet the press requirements could then be denied or asked to register as a visitor.
JET Onsite
JET's Onsite team managed the entire onsite registration process. This included assisting exhibitors with their badging and Engage Scanner app queries, both on build-up day and the morning of the event. Visitors who had not pre-registered were able to make payment onsite and were then directed to a self-registration terminal where the visitor could register themselves and get their badges printed out seamlessly. Pre-registration query terminals were also onsite for any visitors who had forgotten their PDF Badge.
"We have worked with Jonas Event Technology for several years now on shows across our B2B portfolio, including Natural & Organic Products Europe. They are consistently quick to respond, creative in finding solutions to our issues and always very friendly too."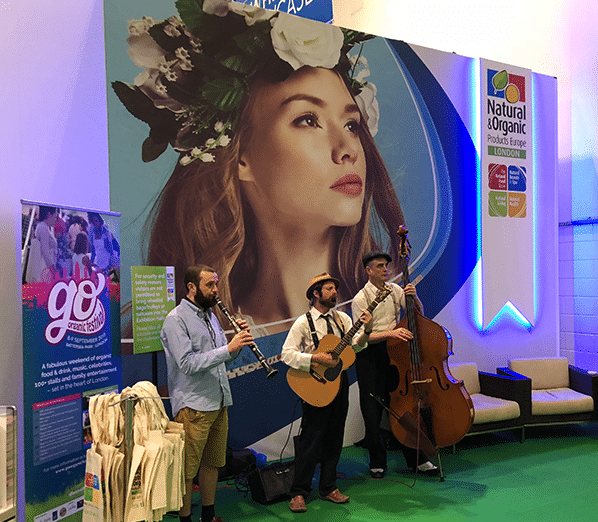 JET Reporting 
JET Reporting allowed the organiser to self-serve their reporting requirements throughout pre-registration, onsite and post event. Using Eventdata enabled the organiser to drill down into the data and create custom reports and export data for use within their marketing campaigns. Reports are set-up simply within minutes freeing up time for the organiser to focus on using this data to increase the exposure of their event and, therefore, the number of registrations/attendees.
Engage Scanner
The organiser opted to include the Engage Scanner App within their stand package, meaning that all their exhibitors would be able to gain the benefits of our lead recording service without an extra cost. By opting for this model allowed a proportion of the exhibitors (especially the smaller exhibitors with smaller budgets) to use a tool that they would have been unable to usually afford, which in turn improved their lead data from the event and the result of which was an overwhelming success.
"First time I have used the data scanner app at a trade show, I actually used it because it was not optional this year at NOPE. However, I will be using it at every major trade show from now. It saves so much time and collects a lot more relevant information about potential clients making communication after much easier. I am also impressed by the speed at which it scans, I have used other apps that use the camera as a scanner and they sometimes struggle more."
Get in Touch
Simply fill out the form to get in touch!