The 5 Biggest Exhibitions Venues in the World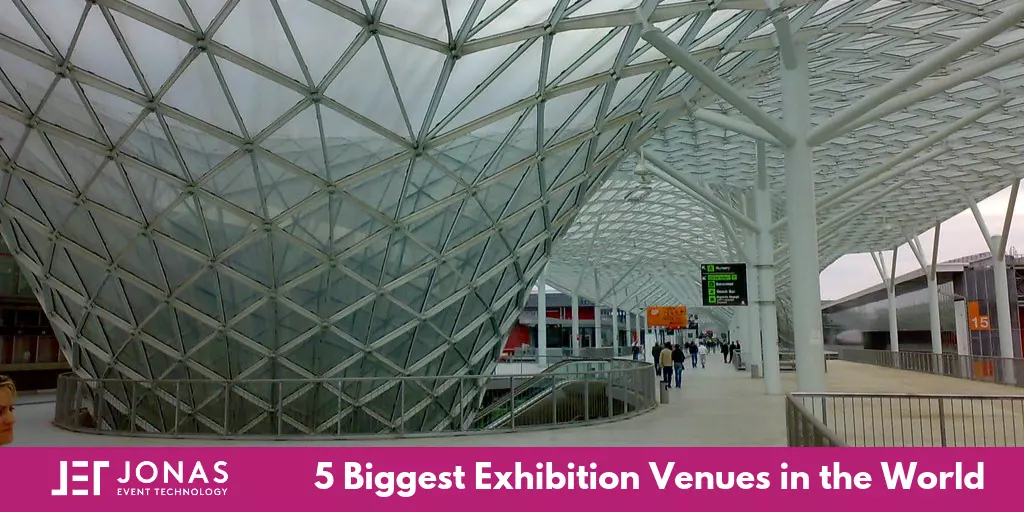 Biggest Exhibition Venues in the World by Size
Exhibition venue sizes are expanding at the rate of airports, where the need for space to handle the volume of people never seems to be enough. These venues play host to the biggest events and trade fairs on the globe, with millions of exhibition goers attending to gain more knowledge from experts, create abiding relationships and showcase their own potential. The following list of five exhibition venues are strikingly massive, that even some of them have a bigger area size than Vatican City, and all of them combined trump the country of Monaco! So, where are they situated? Let's start by venturing out to Asia for the fifth biggest venue…
5 – Import & Export Fair Complex, Guangzhou, China
It won't come as a surprise that China is home to one of these venues (and may not be the last in this list), due to its paramount influence on trade. The Canton Fair, hosted at this complex in the city of Guangzhou, has been ongoing since 1957, and welcomes 150,000 guests from almost every country on the planet. It's the hub for vendors to meet buyers, and buyers to find their suppliers, so essentially, and literally, deals are done left, right and centre. The venue itself is just shy of 340,000 square meters, and for the trivia thirsty readers, 'Canton', was the previous name of Guangzhou.
4 – Fiera Milano, Italy
Your Italian doesn't have to be bene to understand that the Fiera Milano is located in the northern city of Milan. The infamous architect Massimiliano Fuksas was the mind behind the 345,000 square metre structural masterpiece, that opened in 2005. The venue has been host to many reputable events, with none bigger than the World Expo in 2015, with the theme 'Feeding the Planet, Energy for Life', of which lured in just the tiny figure of 20 million people across a few months.
3 – Messe Frankfurt, Germany
We stay in Europe for the third biggest exhibition venue in the world, as we head to Germany. Usually, when people jet off to Germany, their draw is the cutting-edge architecture and culture of Berlin, beer and Bavarian oompah music in Munich, or the stroke of gothic genius that is Cologne. However, if you mean business, then you'll flock to the Frankfurt which is the financial centre of the country. Within the city is the Messe Frankfurt, which is a 367,000 square metres exhibition venue that is used for many motor shows in Germany, as well as the IMEX – one of the largest global business events in the world. The venue is so vast that shuttles are required to take you from the entrance to many of its exhibition halls!
2 – National Exhibition and Convention Centre, Shanghai, China
The National Exhibition and Convention Centre in Shanghai is not just any exhibition centre, but in fact a symbolic statement made by China to showcase their authoritative presence in the world's commerce. Accomplishing 5th in this list wasn't enough, so in 2015, they unleashed this beast that has 400,000 square meters of exhibition space, and even double that in the outside surrounding area (that doesn't count in this list though). This relatively new exhibition venue was uniquely constructed as a four-leaf clover, which lights up the city at night time in several different patterns. Quite spectacular.
1 – Messegelände Hannover, Germany
At 496,000 square meters, the biggest exhibition venue of Brobdingnagian proportions is the Hannover Fairground. It's primary use is for the Hannover Messe which takes place annually, and is undoubtedly the world's biggest industrial trade fair. Its origins start back in 1947, just a couple of years after WWII, as the British military government wanted to organise a trade fair to rebuild commerce in Germany. It had a bit of a facelift in preparation for the World Expo in 2000, so now it looks incredibly modern, with abundance of space that include multifunctional facilities, first-rate equipment, 29 halls, 35 function rooms, and exceptional transport links. In terms of indoor space, it is the biggest in the world…for now.
Wherever you are organising your event, we can help. We are an award winning event registration company who can help take the stress out of event registration.