Telford International Centre – Where to eat, drink & sleep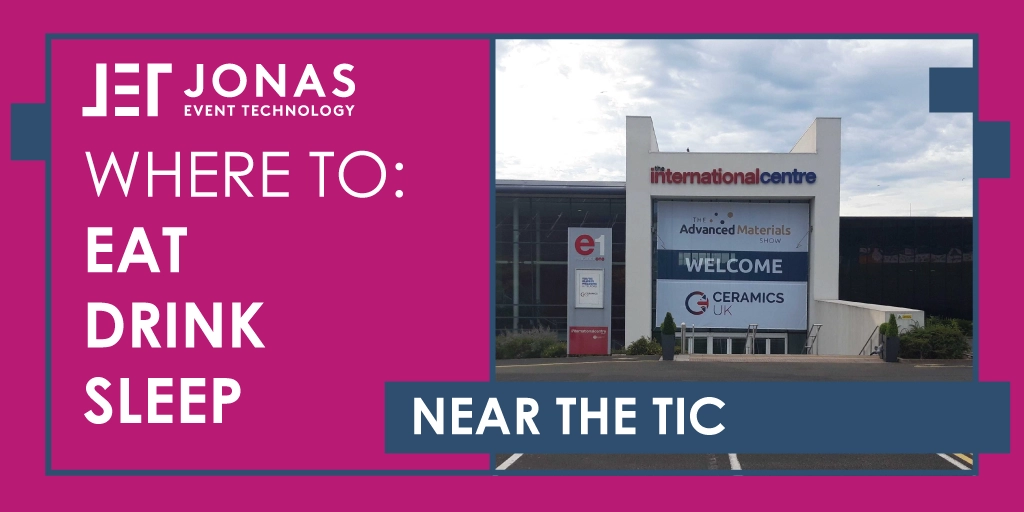 Telford International Centre – Restaurants, Bars, Hotels and More
Telford International Centre is a top-tier event space. And once you take a look at it yourself, you'll see why. There are more than 15,000 square metres of space in this gigantic, multipurpose venue which is used for everything from niche industry conventions to the British Alpaca Society National Show and everything in between.
If you're attending an event at the international centre, then you can be reasonably sure that it'll be top drawer. But what about your trip outside of the event? You'll find plenty of places to eat, drink, and sleep well. In this blog, we'll run through all the essential details you need to ensure that you have a good time both inside and outside the event.
Restaurants
You'll be hungry after your day at the international centre Telford, so why not treat yourself to a slap-up meal at one of Telford's finest eateries? You'll have a bunch of options at your disposal. Below, we've put together a list of three of the best.
Miller & Carter
Looking to push the boat out? Then make a reservation at Miller & Carter. This award-winning restaurant has plenty going for it, especially if you like steak. Indeed, you won't find a better steak in Telford, and possibly much further than that, too. There's not a thing that the friendly staff at Miller & Carter don't know about steak, and that's something that you'll certainly understand after you've taken your first bite. Don't worry if steak isn't your thing, though — there are plenty of other delicious options on the menu, too.
Chez Maw
If you're looking for delicious grub in an exquisite environment, then make a reservation at Chez Maw. It's the restaurant of the Valley Hotel, but you don't have to be staying at the hotel to eat there. They've recently undertaken a major renovation that made the restaurant one of the most beautiful in Telford. Chez Maw is about more than just show, however — there's also a delicious menu and awesome wine list. Everything works together to create a first-rate dining experience.
Restaurant 1840
Ever wanted to eat in a transformed 19th-century Methodist Church? In all honesty, that thought hadn't crossed our mind until we saw Restaurant 1840. Much of the materials used in the restaurant are OG materials from the church, which helps to create a one-of-a-kind eatery. There's a big emphasis on local ingredients and dishes, too. Try the sample menu.
Bars
Round off the evening with a drink in one of Telford's fantastic watering holes, such as —
King's Yard Micropub
Looking for a no-thrills, back-to-basics pub that also serves delicious beer? Then you can't go wrong with the King's Yard Micropub. This is very much a micropub, so don't expect too much space, but you'll certainly have a good time. Order the freshest beer on tap, pull up a chair, and spend your evening talking and playing Jenga.
Cleo's of Ironbridge
Cleo's offers another excellent option for people looking for a fun evening after their event at the centre. You'll find great wine and beer on the menu, as well as a selection of delicious cocktails. It's a bar that has been inspired by an ethos of 'fun, fun, fun', so expect some dancing and singing, especially if you're visiting on a Friday night.

Cock Hotel

The Cock Hotel is well-known for being one of the best pubs in Telford. Recently renovated, it offers a cosy and welcoming atmosphere along with plenty of delicious drinks and some good pub food, if you're feeling peckish. Everyone has a good time here, and we're sure you will, too.

Hotels
Looking to have a good night's sleep close to the venue? These places have got you covered.
Holiday Inn Telford Ironbridge
A night at the Holiday Inn Telford Ironbridge allows you to sleep as close to the Telford International Centre as possible. Indeed, the only way you could sleep closer is if you slept inside the centre (word of advice: this isn't allowed!). This Telford hotel is one of the most popular hotels to select, and offers free parking, free wifi, and a host of amenities that include a swimming pool, gym, steam room, and sauna. The rooms aren't too flashy, sure, but they're comfortable and clean, and when they're offering a bed near the conference for such an affordable price, you really can't argue with that.
International Hotel Telford
The International Hotel Telford is extremely close to the International Telford Centre in both name and location. If you're staying at this hotel, you'll be able to enjoy an extremely brief walk to and from the centre, and also be able to take a quick nap in the middle of the event if needed (those Alpaca shows are exciting but physically and emotionally draining!).
Does the hotel offer more than just a great location? You can bet your bottom dollar. You'll get a delicious hot breakfast that'll give you the energy you need to last the distance at your event, and there's also a lounge bar on site, too. Free wifi and free parking are also included.
Webb Lodge
Looking for accommodation that's a little more private? Then Webb Lodge could be just what you're looking for. This private apartment is located slightly further away from the centre than the two hotels outlined above, but it's still extremely close — it's less than ten minutes drive from door to door.
In the apartment, you'll find two amazing bedrooms and all the facilities that you'd expect from a high-quality holiday apartment. If you're travelling with a small number of co-workers or family members, then this could be a good option. There is room for six guests in total (two in each bedroom, two on a pullout sofa in the living room), and it offers excellent value for money.

Still, looking for more fun? Then be sure to swing by some of Telford's biggest and best attractions, which include the Iron Bridge and Toll House, the Gorge Museums, and the Wrekin, the area's iconic natural wonder.