SEC Glasgow- Where to Eat, Drink and Sleep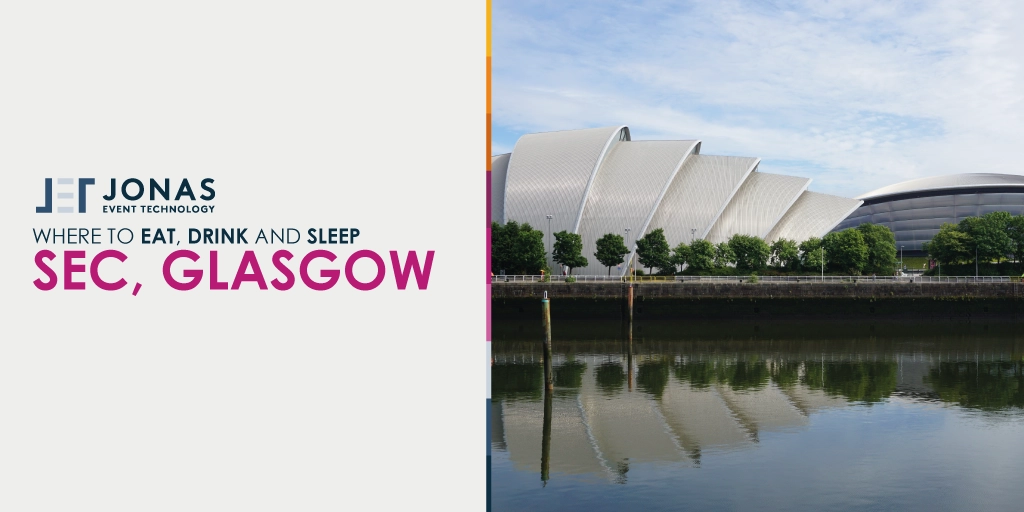 SEC Glasgow
SEC or the Scottish Event Campus is located in Glasgow and is owned and operated by SEC Limited, whose main shareholder is Glasgow City Council. The SEC is known for its flexibility in terms of hosting events, with enough space to host conferences, corporate meetings, exhibitions and other events. The fact that it is also located in Scotland's biggest city makes it an advantageous location to host any business event. This article will aim to help you navigate the different establishments surrounding the campus and give you some recommendations of places to eat, drink and sleep to make your trip a well-rounded experience.
But first, you need to know how to get there. If travelling by public transport, you are in luck as there are three railway stations in the area, the closest being directly opposite the campus. Exhibition Centre is only a 5- minute walk to the SEC while Charing Cross and Anderston are within 20-minute walking distance.
Restaurants
The closest restaurant to the SEC is CLYDEBUILT Bar & Kitchen, which is a pizza place located within the campus itself. This restaurant offers a delicious selection of pizzas, as well as bar snacks, burgers, and cocktails, making it a great spot to grab a bite before or after an event. If you're looking for a wider variety of food options, be sure to check out Cranside Kitchen. This open-air courtyard is home to several different restaurants, including Romano's for pizza, Xi'An for Chinese cuisine, Chang for Thai food, and Pokebowl for fresh and healthy poke bowls. With so many different options, you can explore a whole range of flavours and dishes in one convenient location.
Bars
If you're looking for a night out near the SEC, there are plenty of bars located just a short walk away on Argyle Street. One popular option is The Brass Monkey, a cosy pub that offers a wide selection of drinks at an affordable price. Whether you're in the mood for a pint of beer or a creative cocktail, The Brass Monkey has something for everyone. For those looking for a more upscale bar experience, check out Lebowskis. This stylish bar offers a range of classic cocktails, as well as a list of themed cocktails that are sure to add some excitement to your night. Whether you're a fan of the classic White Russian or want to try something new, Lebowskis has plenty of options to choose from. Another unique bar located on Argyle Street is Strip Joint Records. This bar doubles as a record store, offering a wide selection of classic vinyl records to browse and purchase. And while you're perusing the records, you can also enjoy a classic cocktail or two. With its unique combination of music and drinks, Strip Joint Records is a must-visit for music lovers and cocktail enthusiasts alike.
Hotels
If you aren't local to the area, you'll want to find a comfortable and convenient place to stay while visiting SEC. Fortunately, there are several great hotels that offer a range of amenities to suit your needs.
About a 3-minute walk away from SEC, is the Crowne Plaza Hotel. This upscale hotel offers luxurious rooms, a spa, and an on-site restaurant. Another great option is the Radisson RED, which is located just a 5-minute walk from the SEC. This modern hotel features stylish, contemporary design throughout its comfortable rooms, which are equipped with all the amenities you'll need for a pleasant stay. Guests can also take advantage of the hotel's fitness centre, which is open 24 hours a day and features state-of-the-art equipment. Lastly, Courtyard Glasgow is a great option for travellers who want to enjoy a range of convenient amenities such as free Wi-Fi, a fitness centre, a restaurant, and a gift shop, with well-decorated and spacious rooms. No matter which hotel you choose, you'll have easy access to the SEC and all the events it has to offer, making your stay in Glasgow a comfortable and enjoyable one.
Overall, there are plenty of great options for eating, drinking, and sleeping near the SEC in Glasgow. Whether you're looking for a fancy dinner or a casual pub meal, a pint or a cocktail, a luxury hotel or a budget-friendly option, you're sure to find something that fits your needs.