Olympia London – Where to Eat, Drink & Sleep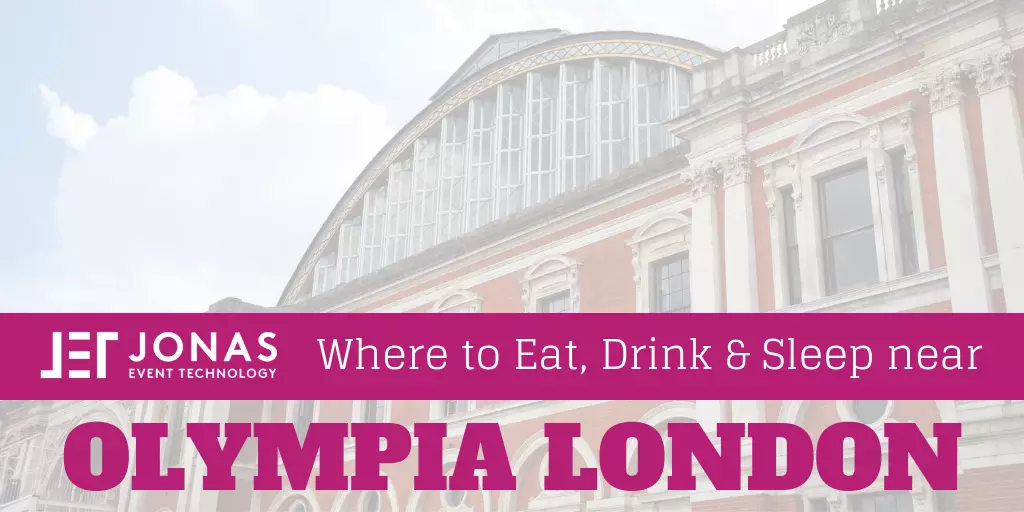 Visiting Olympia London – Surrounding Restaurants, Cafes, Hotels and More
London's Olympia is one of the most distinguished conference centres in the entirety of the UK, with over 130 years of history. Located in West Kensington, the venue hosts over 200 events a year including and various other types of exhibitions for thousands of guests. The unique architecture of the buildings, the abundance of space, and combined with their admirable customer service it puts together a remarkable experience if you are fortunate to visit. Surrounding the venue, there are plenty of amenities that shouldn't be overlooked, and can maximise your enjoyment when spending a few days at a conference or exhibition at Olympia London. Wind down at the following places.
Restaurants & Cafes
Fine Dining – The Belvedere (£££)
If you're after that exemplary dining experience, then look no further than The Belvedere, located in the middle of Holland Park. The building is secluded and calm, as you are away from all that London clamour. In the splendid building with vintage decor, you'll be served some of the finest British and French classis dishes from eloquent staff. A top-class experience, and despite its appeal, it will not charge you an arm or a kidney to eat here, with many meals less than the £30 range.
Traditionally British – Crown and Sceptre (££)
Whether you just fancy a pint after a day of networking, or you want some familiar grub, the Crown and Sceptre couldn't be more convenient. A five-minute walk from Olympia, you can keep things British with your choice of cuisine, and enter a gastro pub full of character and charm. The food is as flavoursome as the atmosphere is friendly, and simply just a great place to discuss your day.
Simple & Delicious – Indian Express (££)
Indian Express in West Kensington, where the taste is king, but not fast like the burgers, instead professionally prepared with a bit of warmth and expertise from the chef, who just has pure passion for his job. Don't judge a book by its cover, as the authentic Indian food can be considered one of the best Indian restaurants in the entire city, with it's perfectly presented food that is reasonably priced.
Quick and Cheap Bite – L'Elysee Artisan Café (£)
Getting 'cheap' food, or 'cheap' accommodation, or literally 'cheap' anything in London is like getting blood from a stone, but L'Elysee Artisan Café offers value and suitability to your trip – an unhidden gem. Across the road from Olympia, you'll notice this café gives you a selection of coffee, pastries, sandwiches, salads, cakes, smoothies and more! Prices are fantastic, and it is an ideal place to go for some nourishment at lunch time, or even before the events start, as the café opens up bright and early from 7:30am.
Bars
Down in the Basement – Trailer Happiness (££)
A short taxi or tube journey away from Olympia, you'll find Trailer Happiness – a basement bar specialising in Tiki exotic cocktails. The award-winning bar is becoming increasingly popular, so a wise thing to do would be to book in advance so you don't miss out. Exceptionally themed, with a vast selection of drinks to choose, from standard classics, to signature cocktails or keep it simple with neat rum.
Food & Cocktails? – Dirty Bones (££)
If you feel in the need of indulging yourself with food and alcohol, find yourselves at home at Dirty Bones. The restaurant has branched out to other places in London, and across the UK, but it's original home was in West Kensington, just a short journey away from Olympia. The food menu is small with the majority of the options rather meaty (but a vegan burger as well), and to wash it all down, you can enjoy all the different types of cocktails available. Don't want food? No problem, get down to Dirty Bones before 7:00pm, and experience happy hour – cheap cocktails in a soothing environment.
What About Pubs?
If you want to keep it simple with beer, cider, or wine and good ol' conversation, check out all the close British pubs around the venue. Look out for Hand and Flower, The Cumberland Arms and The Albion, which are on the doorstep of the venue. If you want to venture out a bit, a special mention must go to The Churchill Arms. This infamous pub, where Winston Churchill's grandparents were locals, is decorated on the outside so exquisitely with vegetation, and on the inside is full of memorabilia – certainly worth the short trip to Notting Hill.
Hotels
Budget Friendly, and Convenient – MStay Russell Court Hotel (£)
No thrills, nothing to write home about, but most importantly, no worries about your stay. Opened in 2011, this conveniently located hotel is less than a mile away from the venue, at a desirable cost compared to London's extortionate prices. Rooms are basic and comfortable, customer service is adequate, and you even get a scrumptious breakfast to kick-start your day. You won't be disappointed or underwhelmed with this choice, but instead quietly pleased.
Business Class for Business Trip – Novotel London West (££)
Situated near the Hammersmith tube station, and only a short walk to Olympia, this huge hotel boasts over 600 bedrooms, and is the perfect for any type of business stay. The spacious rooms will give you maximum comfort with many providing desks, sofas, tvs, as well as an impeccable view over London. In addition to that, the facilities this hotel has to offer cannot be faulted, with a few restaurants and lounge bars onsite including buffets and Artisan grilled food. Waking up to the smell of their delicious buffet is just the best alarm clock possible!
Luxurious Stay – K West Hotel & Spa (£££)
If you have the chance to stay in anywhere near Olympia, don't hesitate in booking the full experience at K West Hotel & Spa. This four-star boutique hotel has luxurious niceties and you can put one's feet up in splendid style. The hotel's rooms, lounge bar and restaurant will surpass your expectation, but the real USP of this place are the sumptuous herbal steam rooms, hydrotherapy pools and fragrant foot baths. Staying here will give you the ultimate opportunity for opulence.
What else?
Have a free afternoon? Want to extend your stay? This location of London is compact with many other things to do in your time, from spending your day shopping at Westfield, a stroll to Kensington Palace and/or Holland Park, Albertopolis for the culture vultures, or entering the bustling Portobello Market. On top of that, there are limitless shops and bars in the area, so you'll want to outstay your welcome indefinitely.