NEC Birmingham – Where to Eat, Drink & Sleep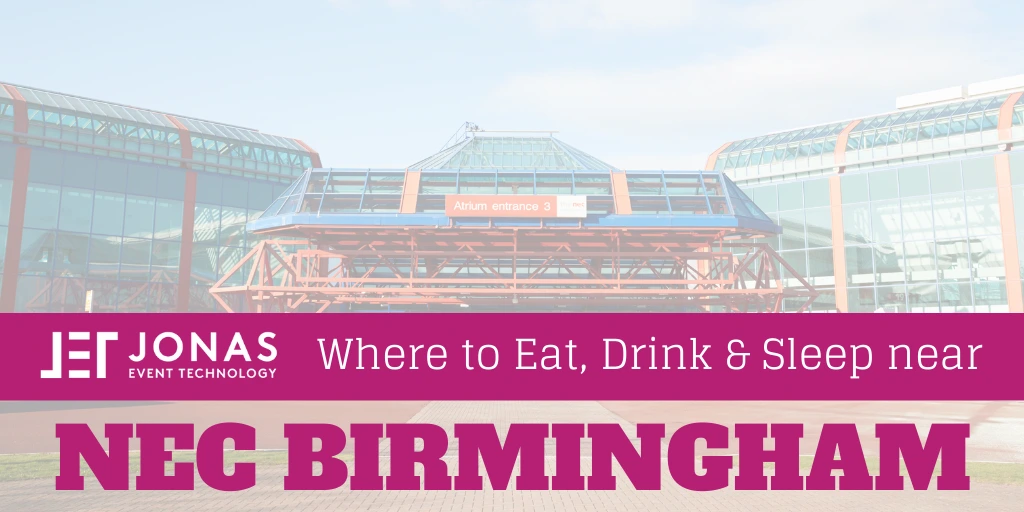 Visiting NEC Birmingham – Restaurants, Bars, Hotels and More
Pinpointed in the centre of the UK, the NEC in Solihull, Birmingham is the largest exhibition venue in the country, with 40 years of show business history, and it now stages over 500 events every year with 2.4 million guests entering through its doors. 'The shows would never come out of London', was once reiterated by the Leicestershire Council back in the 1970's, as they refused planning permission for the NEC at the initial stages. However, Birmingham refused to abide by that, as they constructed the NEC in 1976, and 'the rest they say… is history'. It has surpassed all London exhibition centres in terms of size as it boasts 18 exhibition halls, 32 conference suites, abundance of outdoor spaces and the Resorts World Arena.
Due to its location you don't need to venture too far away from the complex (and not into Birmingham city centre) for your accommodation and amenities, with everything you need at your fingertips. If you're likely to be heading to the NEC soon, then have a gander at my recommendations to maximise your time in the number one exhibition centre in the country's second city – I've got you covered!
Restaurants and Cafes
On-Site Options (££ – £££)
There are plenty of places to eat near NEC Birmingham. The NEC has food outlets on-site with a wealth of varied options to cater for your tastes. For breakfast and/or lunch, the full English is available at the OAK Kitchen if you're thinking top-of-the-range, or there is the old familiar, JD Wetherspoons, if not. Something a bit lighter? The Cornish Bakery offers ravishing baked goods and pasties, and there is Made and FCB Artisan Espresso Bar competing for your coffee needs – but Starbucks is always there to pick up the victory, if preferred. STR(EAT) Kitchen is new to the NEC, and popular amongst vegetarians and vegans for their extensive meat-free menu, with Buddha Bowl's and burritos sought after. On the other side of the spectrum, Butcher & Grill gives you your 'Man vs Food' option, with grilled cheese, burgers and sausage-based meals aplenty. Finally, you can keep it simple with Italian, as Barrell & Stone provides scrumptious stone baked pizzas, and EvViva offers the same with many additional options for pasta lovers.
Resorts World Arena (£ – £££)
You can also head to the not-so-distant Resorts World Arena within the complex, which is continuously opening more diverse food experiences year upon year. For quick bites, Wrapchic is somewhat of a gem, as India meets Mexico, offering you mouth-watering wrapchos, tacos, and bowls with the right amount of spice. If a lengthy meal is what you're after, then Miller and Carter's Steakhouse should come out on top, with exquisitely cooked meats, partnered with unbeatable service and ambience – the perfect place to reflect on your day. The Resorts World Arena also has all the familiar names, so if you want to be confident of your choice knowing what to expect, then head to Nandos, TGI Fridays, Five Guys, Zizzi, Las Iguanas and more for cool restaurants near NEC Birmingham!
Fine Dining Excursion (££ – ££££)
If regular and commonplace doesn't suit you, then do consider the 10-minute drive to Hampton Manor's Peel's Restaurant for the ultimate fine dining restaurant experience. Indulge in a 7-course meal, serving eels to Wagyu beef to scallops, in a fantastic setting in the countryside. Granted, the cost is at a premium, but if your company is paying, then why feel so guilty? Alternatively, Beeches Bar & Grill is a brasserie type restaurant just across the road, which is far more laid-back with excellent value.
Bars
Sky By The Water (££ – £££)
Situated on the fifth floor of the Resorts World Arena, Sky By The Water opened to the public in 2015, and quickly acclaimed itself as the go-to place for all NEC visitors. Afternoon tea, and fine dining can draw you in throughout the day, but the bar becomes a bustling hotspot at night. The bar boasts an extensive menu of cocktails with twisted classics such as Applepolitan, Superstar Martini, and a Treasure Island Iced Tea, and you can enjoy them in a stylish and sophisticated setting. During the summer months, make hay of their '(worst kept) Secret Garden'. The outdoor space has the wonderful combination of cosy chairs, and stunning sights overlooking Pendigo lake.
High Line Bar (££ – £££)
In reality, we are staying on the top floor in the Resorts World Arena, but metaphorically, we travel across the pond to the High Line Bar – a cosmopolitan bar that resembles New York City. Knock back more signature cocktail classics such as Central Perk, Godfather, and Chelsea Girl, all paying homage to the Big Apple. The open plan space, outdoor terrace and the Lake Lounge, provide the backdrop for an unforgettable night to be had.
The World Bar (£ – ££)
Casual, cheap(ish), and cheerful. If first-rate cocktails and wines are not necessary, then the World Bar might be down your avenue. G&T's and craft ales galore, with a selection of over 40 different artisan beers to choose from. Pub grub is up for grabs all day so feel free to go at any time to relax in the friendly and welcoming atmosphere. As the night draws to a close, the best of UK's upcoming artists perform at this location for high-quality entertainment.
Hotels
Luxury (£££)
Make your stay infinitely indulgent with a luxurious sojourn at the Genting Hotel, located in the heart of the NEC complex. Aside from the deluxe rooms to rest, become acquainted with the Santai Spa on-site, and if you're feeling lucky, take your chances at the Casino. All the top bars and restaurants are in touching distance, so this is the ultimate lavish place to stay for your NEC visit. Over the other side of the Pendigo Lake, you can also rest up at the Hilton Metropole, which is slightly cheaper, but also provides a fine dining, supreme rooms with a view, and 24-hour access to the swimming pool and fitness centre.
Business Hotel (££)
If comfort and professionalism are the main essentials to your stay, then the Crowne Plaza would be your ideal destination. The business services are exemplary, with a high Wi-Fi speed at the core of your productiveness in all open spaces and rooms in your hotel. Bonuses for your stay there would be the room sizes, fitness centre, and the Eleven Bar and Grill dining experience. Elsewhere, there are other modern hotels located near the airport for lower prices like Novotel and Hilton Garden Inn.
On a Budget (£)
If you are trying to keep your costs down, but not so much you'll be wanting to home-stay with some local on AirBNB, then Travelodge is the ideal answer. Wi-Fi and breakfast are not included, but you can book it for such a small sum. It's located outside the airport, meaning it's a short walk/taxi ride away from the NEC, and the efficiency of the service and quality of the rooms deems it superb value. Elsewhere, Premier Inn and IBIS Styles are perhaps closer to the destination, and offer more than just a bed to sleep with basic amenities – another option if you are willing to shell out a bit more cash.
If you're organising an event at NEC Birmingham, we are an event registration company that provide event organisers with registration solutions and award-winning service. Contact us to see how we can help you put on your best event yet at NEC Birmingham!