Jonas Event Technology teams with LinkedIn to help event organisers increase reach and build community among attendees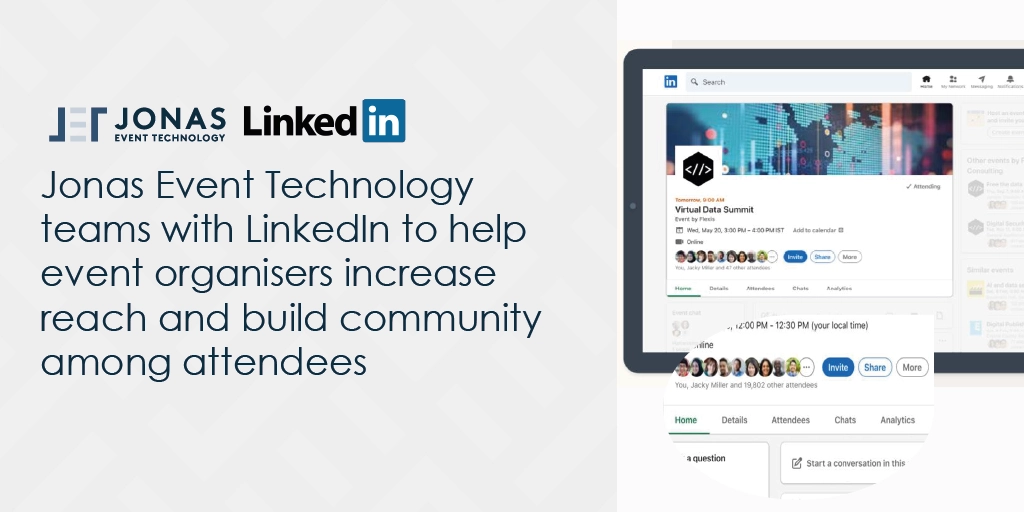 We are thrilled to announce that Jonas Event Technology (JET) recently became the first UK registration provider working with trade shows and exhibitions to partner with LinkedIn to help event organisers increase reach and build community among their attendees.
Our partnership with LinkedIn is rooted in our shared belief that cultivating a networking community of attendees for an event is just as important as the event itself, which is why we decided to take this next step to bridge the gap between the two.
As a result of its collaboration with LinkedIn, JET now offer event organisers who use LinkedIn's Event Pages the opportunity to link the page to their JET registration forms with the Community Builder integration.
We've already started implementing this change to current clients and will continue to do so for all the event organisers who want to use LinkedIn to grow their community.
Why build a LinkedIn Community?
There are several benefits to building a LinkedIn community surrounding your next event.
Increased engagement: By cultivating a LinkedIn community, your attendees will engage, network and stay in contact

with each other, which will boost your overall engagement.

Brand awareness: Your attendees will be able to enagge with your event brand and wll be invited to follow your Company Page on LinkedIn, which will enable a year-round connection with your audience.
Organic Reach: The community made up of attendees, exhibitors and event brand ambassadors will share your brand and content across multiple channels and networks across LinkedIn.
How to do it
The LinkedIn and JET integration can be done in three easy steps –
Build – Set up the event on the LinkedIn platform and start engaging with and building your community of attendees
Grow your community with JET – Simply link your LinkedIn event page to our JET Forms, and attendees can be directed to your page as soon as they register for your event.
Activate – Establish brand ambassadors by inviting your exhibitors and speakers to join your Event Page on LinkedIn, share it with their networks and publish event-related content on the platform.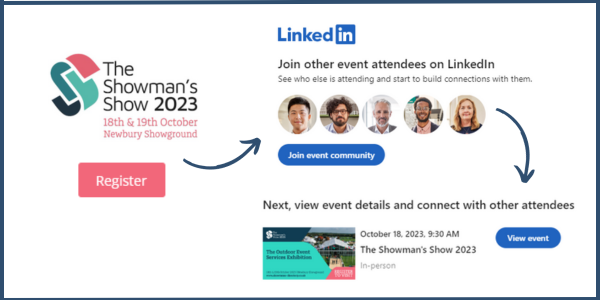 We are proud to be working with LinkedIn to support event organisers in expanding their events' community as well as increasing engagement and overall success.
Krissy Millican, our Account Director, said: "We're delighted to be working with LinkedIn to help event organisers build a professional community, increase engagement and enhance their event. Being the first registration provider for trade shows and exhibitions in the UK to integrate the Community Builder emphasises JET's commitment to providing the tools organisers need to put on their best event yet."
If you're interested in using this partnership to elevate your own event, get in touch with Jonas Event Technology today.