JET Summit Update – January 2020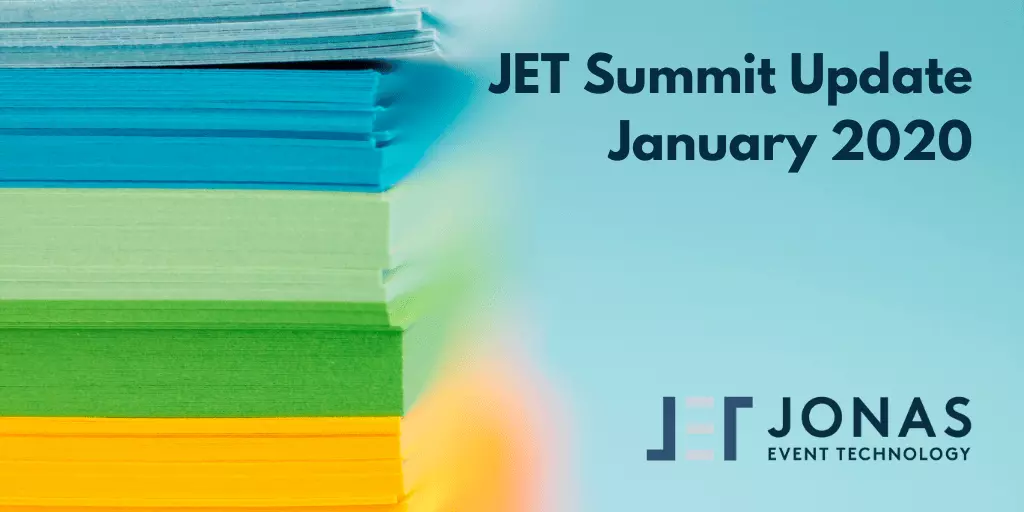 JET Summit Update – we've been busy!
So it's not even been 2 months since we held our first ever user summit (which you can read about here), but we've already been busy making the updates our clients wanted. We received plenty of requests on post-it notes throughout the day, which were collated by our development team, discussed, organised and planned into the roadmap for 2020 and beyond. These were ideas directly from event organisers which could help make our products that little bit better and our clients lives that little bit easier. We like to think we know our industry pretty well, but it doesn't hurt to get feedback direct from our clients.
Here are what we've already done, and what we've got coming up in the next couple of months…
JET Forms
We updated our JET Forms seminar planner with the ability to add colour coding to sessions… this makes it much easier for attendees to visualise the seminars they are attending and their relevance to them. For example they could highlight a particular theatre or a particular theme which can now match up with any website and marketing material colour coding.
Late last year we added Google Analytics integration within our JET Forms, and this year we've gone even further adding Google AdSense integration and social pixels for Facebook, Twitter and LinkedIn. This means that if you are using any of these platforms for marketing, tracking the success of these campaigns on event registration is now even easier when using JET Forms.
JET Reporting
JET Reporting has seen a number of updates which were the result of feedback from the Summit. Some of these included the ability to click through graphs to take you directly to that data set which makes viewing segmented data much easier. We also spent some time making sure that all YoY reporting and tracking registration against previous events was displayed as clearly as possible and in the manner our organisers needed it, as well as making sure attendance reports could clearly show the breakdown of attendance.
JET Data & Data Pro
JET Data Pro updates focused on additional customisation with the ability to add and remove columns from the data view and enhanced filtering options based on the feedback we received.
Re-sending confirmation emails from our system has always been possible but is now more accessible with it being an option within the user view of JET Data.
Coming up…
We've still got plenty to work on and will be making updates throughout the year. A new feature we're currently working on is a help area within EventData so users have all the resources they need to learn about our product and how best to use them in the form of how-to videos, user guides and an FAQ section.
We're always after your feedback, so if you're a user of EventData you can login and leave us feedback, and as you can see, your feedback can result in actual changes… this is just the stuff we've completed in a couple of months! You'll see the 'Feedback' option in the top right corner of EventData, alongside the 'New' icon which will let you know all of the updates as they go live.
That's it from us for now, we'll keep you updated with all of our news throughout the year so keep checking our blog!