Event Badging
If you're running an event where you need your attendees badged, you're going to require a way of producing a badge.
We can help with your event badging.
Event Badging
If you're running an event where you need your attendees badged, you're going to require a way of producing a badge.
We can help with your event badging.
A Guide to Event Badging
What are the options for event badges?
There are a number of possibilities you might want to use for your next event. You could have them pre-printed and available for collection, or you could have them emailed out as PDF's for visitors to bring along. Either way, you'll also want to have a badge printing solution onsite for printing badges in seconds.
I need to badge visitors for my event. How do I print them?
Depending on the size of your event, you may decide that pre-printed badges is the way to go, however, if you're expecting hundreds (or even thousands) of attendees you'll want a more powerful, flexible solution for the best on site experience.
Your event registration provider should be able to manage your pre event registration and allow new visitors the ability to register onsite.
The onsite team will then be able to ensure that badge printing and event check in is as seamless as possible.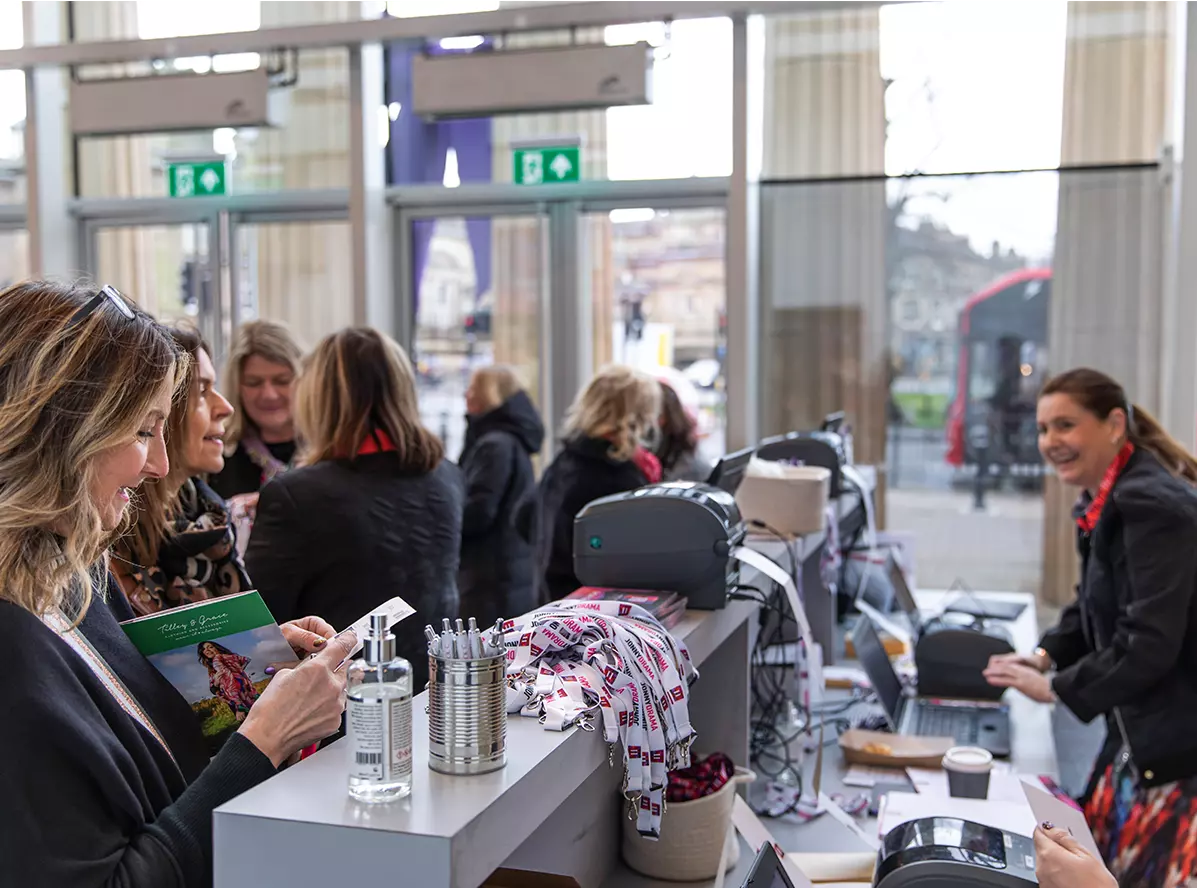 Do you need an event registration solution?
If you're running an event of near 1,000 visitors or more, you'll probably like a bit of assistance so you can focus on organising and marketing your event. An event registration company like Jonas Event Technology will then take away the stress of badge printing and creating your event badges.
With a full solution, managing your attendee details is a lot easier and you have plenty of flexibility on what you can include on your event badge.
What information can be put on an event badge?
Event badges can be designed to include the event logo and any sponsor logo in addition to the attendee's name and any other required information (such as company name and job title). The badge can also be personalised to include any special codes for specific event packages or show the seminar codes the visitor will be attending.
Our Top Tip: Print your event badges on-site
Sometimes the registration process can be quite complicated. Changes take place everywhere (and easily so if using an event registration form from ourselves) – so having a full-service registration system means our team of event professionals can manage the onsite badge printing.
What type of event badges can be printed on site?
There is a range of badge stock options including single sided badges, double sided badges and plastic cards (should additional security and potentially a photo badge be required).
We would recommend using the most eco-friendly material for badges available, and we work with suppliers who are constantly researching the best materials, as well as printing badges using thermal transfer rather than ink.
Whatever you choose, you'll want to make sure your delegates have high-quality badges.
What sort of accessories do we need?
Badges can be attached to lanyards (lanyards can be supplied as plain or with a design) or badges can be clipped to clothing. Plastic badge holders can also be used if necessary.
Anything else to consider?
Badges don't just need to be used for allowing visitors to gain entry to the event. A huge benefit to personalised name badges is the potential for easy lead retrieval. Should your events have an exhibition area, exhibitors will be able to scan the barcode or QR code on the badge to collect contact details. This provides your exhibitors and sponsors with a way to realise their return on investment by helping them to make the most of their time at your events.
—–
So what does Jonas Event Technology offer?
We offer an event registration solution to event organisers around the world.
Give the best possible first impression at your event!
Make the events run smoothly with a reliable badge and branded badge printing service.
Badge printing customisable to your needs
Our services are suited to every event requirement from smaller conferences to international trade events.
Staffed or self service badge printing solutions
Our team can help your visitors and exhibitors register on the day of the event. Whilst we also have the option of using self-service machines where a simple scan of an email barcode will print the badge of the attendee for access. A mix and match option is also possible.
Real time attendance reporting
All of your attendee data is connected to JET Reporting and allows you to view the meaningful data for your event. The system lets you see your attendance and conversion figures in real time, and useful metrics like visitor flow and exhibitor performance.
—–
Stress Free Event Badging
Get your visitors, delegates and exhibitors registered, print their badges and get them into the event. We'll help make that whole process stress free.
Get in Touch
Simply fill out the form to get in touch!