5 UK football stadiums where you can hold a conference
5 UK football stadiums to hold your conference
Football runs through the veins of the UK, and with the abundance of world-class stadiums at our disposable, it's a no brainer as to why event organisers are choosing to marry these venues with conferences. Football grounds aren't just a place where 22 people kick a ball about. Many contain a wealth of event spaces and rooms, facilities, AV equipment, museums and fine dining and can host award shows, conferences, exhibitions, weddings, receptions and more. British people are spoilt for choice when it comes to stadiums, as many huge footballing clubs and cities have constructed and redeveloped stadiums in order to entertain hundreds of people in bespoke events for decades. The stadiums are not just a permanent fixture of the community for the locals who love their football team, but their doors are open for the world, as they eagerly accept all newcomers too.
Are you looking for a part of the action? Do you want to get a kick out of your conference? Are you looking for a premier venue? Here are five UK football stadiums that can also host conferences. Let's kick off.
1. Hold your conference at Stamford Bridge (Chelsea), London
Home of the Blues, Stamford Bridge is located in South West London, a rather affluent area for an eminently rich football club – Chelsea FC. It's conveniently accessible location is one of its main factors, as making your way there is hassle-free from wherever you'll be coming from. Since the turn of the millennium, Chelsea have become one of the biggest clubs in world football, winning many major trophies and have acquired some of the top talents in the game. Their successes on the pitch have helped contribute to improved performances off it, including a continuously improved stadium. It was once a mediocre ground, but now boasts superior facilities and event spaces, sports bar & grill, suites, fine dining, two on-site 4* hotels, and 'Under the Bridge' – an on-site music venue. Not only that, but it also has a modern museum which has tons of memorabilia, interactive displays and honours including the Champions League trophy which you cannot see anywhere else in London (sorry Arsenal & Spurs fans).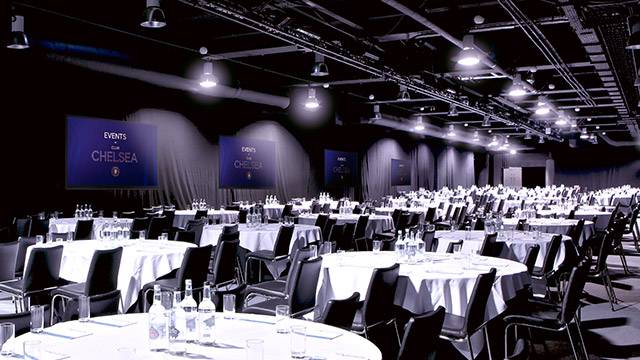 (image courtesy Chelsea FC)
In recent years, the venue has played host to the SBC Betting conference on four different occasions, where high profile guest speakers from the largest international companies from the sports betting and gaming industries turn up in their numbers. Additionally, Stamford Bridge has also hosted Women In Sport, Leaders Sport Business Summit and Kantar WorldPanel UK. The reputation of Stamford Bridge is rapidly growing as one of the most versatile and brilliant conference venues in the UK, and long may that continue.
Find out more here.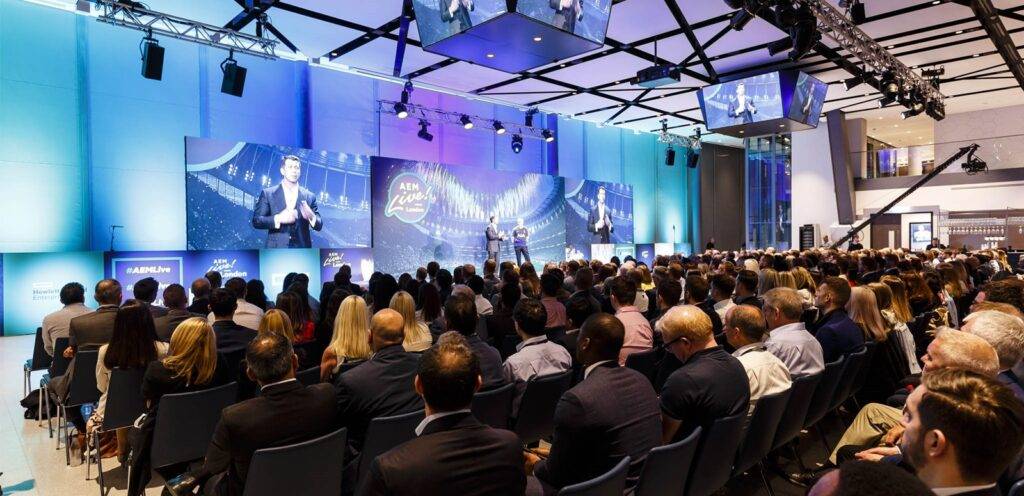 2. Hold your conference at Tottenham Hotspur Stadium (Tottenham Hotspur), London
Tottenham Hotspur have opened their new breath-taking stadium and previous boss Jose Mourinho proclaimed that Tottenham now have the best facilities in the world, and even stayed the night there in his first few days in charge singling out the 'huge huge pillows and expensive duvet – so so good!'. The future must be bright for the club, and on the conference front, they hope to replicate other venues and go beyond expectations to provide an immaculate experience for guests and organisers.
The 62,000 seated stadium replaced the old White Hart Lane in 2019, and has already made a name for itself in the events industry. It has a diverse range of event spaces, and can accommodate up to 2,000 people, and an experienced culinary team on hand to provide exquisite food and drink for any type of event. The most notable event was the Sports Grounds Safety Authority's annual conference, and moving forward, the venue should see more high-profile events on the horizon.
Find out more here.
3. Hold your conference at Hampden Park (Scotland's National Team), Glasgow
Not all the best football stadiums in the UK are located in London, or even in England, as Hampden Park is the home of Scottish football in Glasgow. The national stadium hosts all of Scotland's international fixtures, and Scottish cup final fixtures and previously held the Champions League final in 2002. Not only does it have a huge footballing pedigree, but it's also one of the most famous conference centres in the whole of Scotland with over 46 conference and event spaces, with it continuously being home to many business conferences, award dinners, public exhibitions and even weddings.
At the Stadium Events & Hospitality Awards, Hampden Park was awarded with the Overall Match Day Hospitality Award in 2017, as well as the Best Digital Enquiry Award in 2019. The team at Hampden Park are starting to get recognised for their tremendous efforts, and is the prime exhibition centre choice for anyone in that part of the UK.
Find out more here.
4. Hold your conference at Villa Park (Aston Villa), Birmingham
In the centre of the country, Villa Park is ideally situated for conference goers, with its stadium visible from the M6, and just a few minutes' walk from the nearest train station. The iconic stadium in Birmingham, and home to Aston Villa, offers many event spaces including the Holte Suite, Directors Club, the infamous landmark 'The Holte', 82 Suite, Heineken Lounge, Lions, and The CornerFlag – nope, not to be confused with the corner of the pitch, but another suite to host networking events with spectacular views of the pitch.
Find out more.
5. Hold your conference at Etihad Stadium (Manchester City), Manchester
The final stadium we'll highlight is Manchester City's Etihad Stadium, located centrally in Manchester. The Etihad Stadium was first opened in 2003 and was regarded as the most outstanding stadium at the time, and even though newer stadiums have been built since then, it still remains held in high regard. The conference facilities are not short of greatness either with an experienced team to create and co-ordinate abundance of events that have surpassed all expectations, hence they were awarded the Best Stadium Events Venue Award in 2019.
The stylish suites, and premium event spaces can host any type of special occasion, and with transport links on their doorstep, there is no question as to why the venue is becoming increasingly popular. The North West Expo, Office 365 Protection Roadshow and Football Business Networking Event have been, or will be hosted here.
Find out more here.