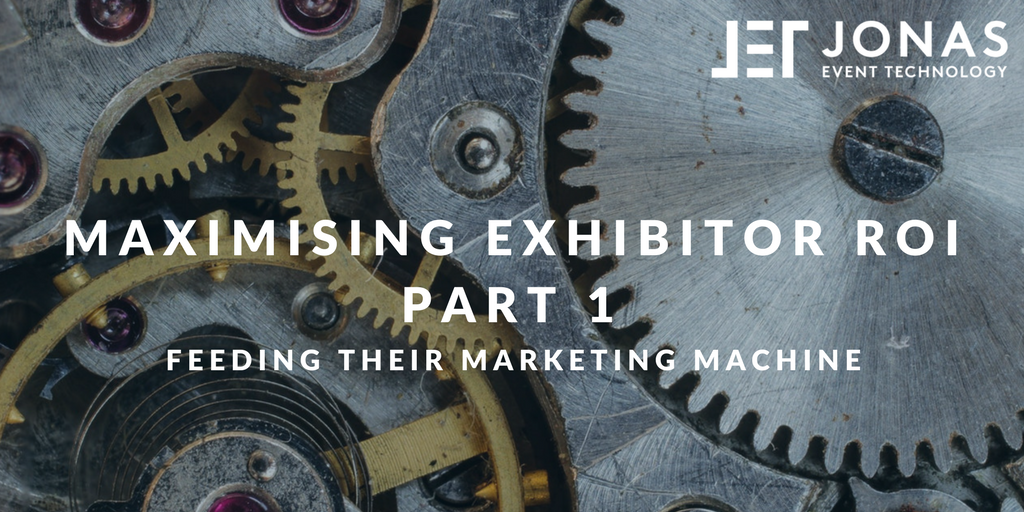 Exhibitor ROI: How to help your exhibitors get a return on investment.
For 40 years, the simple barcode has been the backbone of event registration in the UK and around the world.
Having a simple identifier on any badge at an event that has a low cost to print opens up two key tools to event organisers.
Firstly, and most simply, 'who came to my event?' and by extension the ability to measure the effectiveness of your marketing campaigns, monitor visitor flow and process large volumes of visitors quickly and efficiently. With the UK trade event model largely hinged on free attendance at events only ever a subset of those that book to attend actually turn up on the day. Identifying who they are and what campaign attracted them can be used to inspire the next year of exhibitors to book stands. There are and have always been other technologies – from RFID tags to the use of the ubiquitous mobile phone to check in at events, but both have a cost per head of visitor that at the moment still outweighs the benefits of investment.
The second and potentially more critical element of putting codes on the badges is to open up the flow of information around an exhibition hall. Modern exhibitors are becoming more reliant on data to feed their marketing machines and exhibitions represent a key feed of fuel to that machine.
When questioned about their reasons for investing in a stand at an event, responses from exhibitors vary:
To promote a brand
To generate sales

Meeting key people in our industry (networking)

To demonstrate and showcase products
Ultimately, the final objective is to generate orders, revenue and new business. The capture of information on the audience that visit a stand is a critical step all exhibitors should be considering.
Whether simply a process to collate business cards from each visitor, custom 'lead sheets' to write down contact details, scanning badges to build spreadsheets through to applications designed to capture details, leading through to matching systems that integrate with social media tools like LinkedIn but the method chosen can be tailored to the individual exhibitor's need and budgets.
What isn't optional though is doing something. Without an exhibitor lead capture process defined for an exhibitor's stand, they are missing an opportunity to gain a greater ROI from the event and therefore make the most out of their presence.
This is particularly important for exhibition sales teams – the better an exhibitor does, the more likely they are to re-book next year and the more likely they are to invest more money in an event.
As such, it's a vital service for an organiser to offer on events as it secures exhibitors for the future.
Take control of the conversation
The fundamental reason for capturing data is simply giving exhibitors the tools to take charge of the conversation – those that hand out leaflets and brochures and stand back waiting for business to roll in are at the mercy of people contacting them back at their convenience.
The first line follow-up being in the hands of the exhibitor gives them control over the sales process, from the first 'thank you' email through to the continuity of contact that builds an ongoing relationship.
From retail exhibitors who make individual sales on their stand and want to tap into an ongoing revenue stream from their new customers, to big brands who have distributor and sales networks who are eager for the details of qualified interested customers in their area, these relationships represent revenue streams and with digital marketing costs lower and more accessible than they have ever been, a simple spreadsheet is all even the smallest exhibitor needs to jumpstart their marketing.
How to beat stand limitations
With a successful event, the biggest problem facing an exhibitor is the amount of time it's possible to spend with each visitor. Whether identifying, qualifying and then selling to each person, or simply harvesting data, a stand working at full capacity can process one visitor for every 3 minutes of time spent.
This varies – a high value potential sale, once identified could take far longer, and a couple of staff handing out brochures and literature to passing visitors takes seconds a piece.
Turning a stand into a transactional environment is at the heart of success – for everything given away, whether it be time, a brochure or a free gift, the exhibitor should be gaining something in return – valuable data.
Many exhibitors only collect details on fully qualified leads at a show – cherry picking the best contacts. Whilst this improves the conversion percentage to sales, many visitors find a hard sell in an exhibition environment difficult. Capturing a volume of contacts, even without extended conversations allows the exhibitor to spread their brand, to tap into visitors that haven't spoken at length and open a conversation in a softer medium post-show.
Exhibitor lead capture as part of a larger process
Across the rest of a year, the majority of exhibitors at an event will be aware of the fundamental exhibitor ROI calculations behind their sales process. For every x qualified leads that they get, they convert y to a quote and z to a final sale. With a known value to each sale, there's a standing metric for their sales process.
Exhibitions are another input to the same system. Measurable, quantifiable and making the most of the time at an event.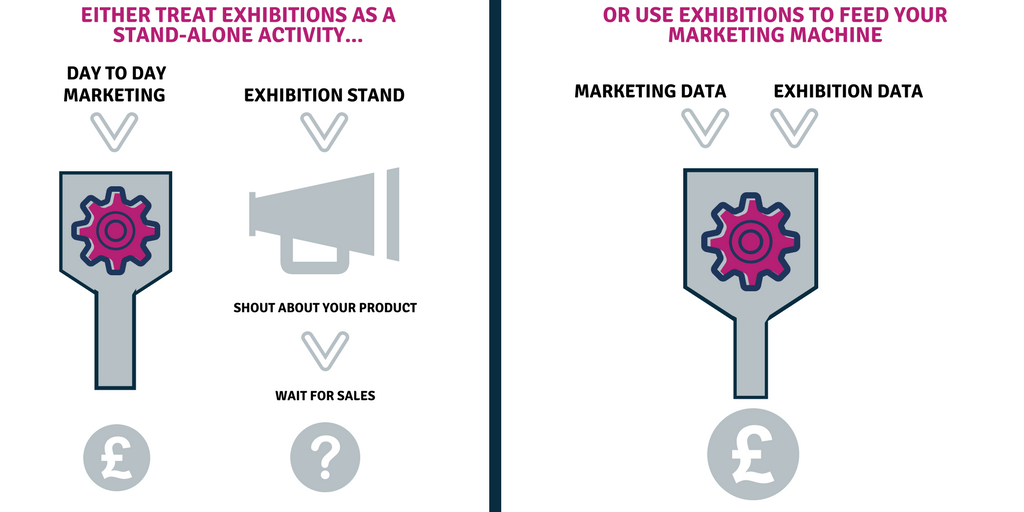 Scanners? Surely there's an app for that?
A popular misconception with 'we've got an app' is that it's a next generation replacement for the traditional scanner. Jonas Event Technology take the view that it's an EXTRA tool that has a different use.
Modern barcode scanners are fast, reliable tools for harvesting volumes of data. The data's available the second they are downloaded via modern secure online reporting tools – giving an exhibitor access back at their offices whilst the event is still ongoing.
For the exhibitor who spends a little more time with each contact at the event, or needs to provide detailed advice, consultancy or information, the Engage Scanner App offers an alternative to simply capturing data – a live feed of information on the visitor straight to your hands.
What the App provides is immediacy – the data is on hand at the point of contact, as is the ability to take notes, photographs and detailed qualifier information on the individual.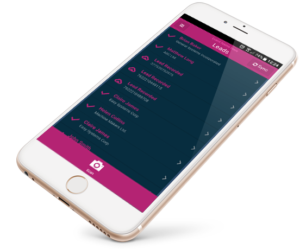 It opens up the possibility of immediate follow-up and integration into address books, social media platforms and import into CRM systems) and is capable of making individual->individual links.
From 10 years of running apps alongside scanners, it's very clear that the app is a critical tool in lower volume high value sales. Many exhibitors now mix and match the service – a scanner for the volume and an app for those that are identified as highest value.
10 years of evolution, partnering with our organiser and exhibitor clients have refined the Engage Scanner App into a swift, powerful and reliable alternative to traditional badge scanning.
Bringing your exhibitors on board
Taking as read that 'a lead capture process of some sort' is a must for an exhibitor – to benefit an event, how do we drive more exhibitors to think about the data flow through a show?
1. Making it part of the sales process for a stand
Working closely with the Homebuilding & Renovating Shows over the last 4 years, we have run training sessions with the sales and account management teams as to what is on offer, how it can be used by exhibitors and the benefit to the exhibitor commercially to prepare an effective lead capture method.
For these events, it is now an embedded part of the process and we are now achieving a higher take up of lead recording on a consumer show than the industry accepted average for trade events.
2. Education in the theory
Traditionally, organisers held prepare and training days for exhibitors, giving contractors and their own teams time to spend with each company to help them make the most out of the event.
In recent years, as budgets have been squeezed, this has fallen by the wayside – the pre-event contact is digital.
Tapping in to the confirmed exhibitors early with the theory behind the value of lead capture is vital. For those that hadn't considered it, their eyes can be opened to the process, for those that already DO, it's an opportunity to make greater use of the options available.
Help exhibitors set targets, set expectations, and put the tools in their hands to meet them.
3. Staff training
Many exhibitors make the decision to use lead capture services at a management level and hand the devices/apps to the staff without training, targets and an understanding of the reasons.
The first part of training an exhibitor on how to use a scanner or app on their stand when we meet them is:
#1, if you don't work it into what you're doing on the stand, it's not going to work for you.
There is always one exhibitor who brings their devices back at the end of an event with the line "I forgot to use it" or "I was too busy"… that highlights that the exhibitor hadn't planned HOW it was fitting into their stand, whether they've taken too small a space, sent too few staff or not trained them in the exhibition environment and how to work it.
Training on working a stand space is available and the 5 minutes we spend with them on build-up is a start point. We offer group training for exhibitors in making the most out of their stand space from a data perspective.
The key message: You've spent money on a stand – when it comes to capturing data – 'nothing' isn't an option.
· Get exhibitors thinking about data on events
· Provide the tools to help them increase their ROI
· Monitor visitor flow in and around your event
· Tailor the tools to their needs
Permissions – Lead recording and data law
Two questions we are regularly asked – "how does this fit with the data protection questions/statements we have on our registration forms" and "when do you email out the data?"
With regards to sharing data – it is a permission based system, visitors agree to have their pass scanned as part of a sales conversation. In essence it is a virtual business card, or the same as completing a form on a stand for more information.
However, it is worth making clear to visitors "if you agree to have your badge scanned by an exhibitor at the event, we will share your information with them securely".
With the "when do you e-mail us the data" – we don't. Quite simply, it's not a secure medium and we require the exhibitor to log on securely to a site to view and download that data. For the same reasons we don't encode full data in a barcode or QR Code on a badge, it is simply a reference link that when scanned connects the exhibitor and visitor.
With the Engage Scanner app (now updated) – the application requires a secure login on the device and there is a separate supervisor login to the online copy of the information. Exhibitors must ensure that there is adequate security on their own devices – a phone/tablet lock as used normally by day to day users is sufficient.
Where does the conversation go from here?
The first few challenges have been met – adding lead recording services to your event and getting exhibitors behind them as a route to improving their ROI.
They've downloaded their apps, they've been trained on their scanners, what can you do to support their follow-up?
The early bird catches the worm – in this case, the exhibitor in a particular sector who gets their message out earliest will get the first bite. Even a simple first line thank-you from the event itself, or immediately following it is enough to start the ongoing conversation. Visitors like and respect a thank you in return for giving their badge over.
Our Engage suite of app, scanner and online login allows exhibitors fingertip access to their data.
Measuring your success?
Complementing our suite of registration, booking, e-mail broadcast, tracking and social media integration we are now including metrics measuring exhibitor response to our lead recording tools. Using NPS (Net Promoter Scoring) we constantly measure our success in building loyal long term lead recording clients.
Future newsletters from Jonas Event Technology will be covering our integration of NPS into our various touch points with both visitors and exhibitors and look in detail at how organisers can start gathering metrics for their own brand and events.
Consumer events
For those organisers working on consumer exhibitions, all of the above still holds true. There are greater challenges in the consumer audience – they are less likely to carry a business card, more likely to attend in pairs or family groups and historically, they don't wear a barcoded badge to an event.
With modern events using e-ticketing and the readily available door scanning services meaning visitors do not have to give up their tickets on entry, lead capture is as possible as it is in the B2B area.
It requires a cultural change for how tickets are managed, but the advantage of giving each exhibitor on a consumer event access to their trade show counterparts reaps commercial dividends.
For information on how Jonas can help your event build a change, open up these options, help your exhibitors achieve more at your event… contact us.